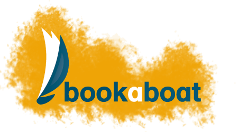 OFFLINE hajó: a foglaláshoz a bérbeadó visszaigazolása szükséges (1 munkanap)!

ONLINE hajó: 2 perc alatt lefoglalható!
Tartalom
>> Weekly offers <<
Weekly highlights and last minute offers:
Check immediately on main page
We may send you via email after registration.
Follow us on Facebook: like our page and you'll not miss the best offers!
Check-out our latest newsletter:
Do you know someone being interested? Please forward...


Pre-season booking has been started on 1st April!

Long weekends on sailboat!
The title is not correct: how can any weekend be long on a sailboat?? Anyway upcoming 3-days weekends in Hungary are the following:
28 April – 1 May,
26 May – 28 May
Most cases you can check in on Friday evening so you have already a full day on your boat on Saturday. Having a Saturday breakfast on the boat is good. Very good! Check the bookaboat offers!
Booking with discounts!
Click and search for best options
May Italy, Portsco, Bavaria 32: -25% 848EUR!

Weekly offers - last minute - click or call!
On Balaton you can still book with discount on last year's prices:
Tourist-boat on Tisza, Tisza-tó, Bodrog rivers



Tokaj wine-tour or fishing weekend!
Tours for 30 people with tourist guide

Every day from 9th April
2 hours 32 000Ft


Click for more...

Balaton-25 in western Balaton

family comfort
1 cabin, 4 berths
30 April - 3 May
preseason disocunt 55 000Ft


Jeanneau SO 33i in exclusive port + wellness


extra accessories
2 cabins, 8 berths
25 -28 May
long weekend 260 395Ft


Click for more...


Adriatic:
Sun Odyssey 37


Greece, Corfu
3 cabins, 8 berths
-15% pre-booking discount

2012.08.04-08.11, new price: 1 870EUR

Bavaria 46


Turkey, Marmaris
4 cabins, 10 berths, 2 showers

-20% prebooking discount

2012.07.14-07.21, new price

: 2 680EUR

Sun Odyssey 45.1

Montenegro, Bar
4 cabins, 9 berths, 2 showers
-15% prebooking discount
2012.06.23-06.30

,

new price: 2 083EUR

There is always summer somewhere! Pre-booking is still going on, search for it!
Search here! Be first in booking!

Have a good browsing and fair wind!
bookaboat team
Contact: www.bookaboat.hu or +36-20-4692990.